Magnolia Project Holds Graduation
North Florida - E3 Founder Anthony Butler, Sr. was guest speaker for 12 ladies and 1 gentleman at the Leadership Academy Graduation representing the Northeast Florida Healthy Start Coalition.


E3preneurs Unite To Share Services
North Florida - A milestone for #E32016WatchUsSOAR was reached as a Lunch n Learn event created by Partnerships Coordinator Ceandra "CC" Dilley in collaboration with the Magnolia Project, an initiative of the Northeast Florida Healthy Start Coalition. 5 women business owners presented their organizations and set a new standard for E3preneurs.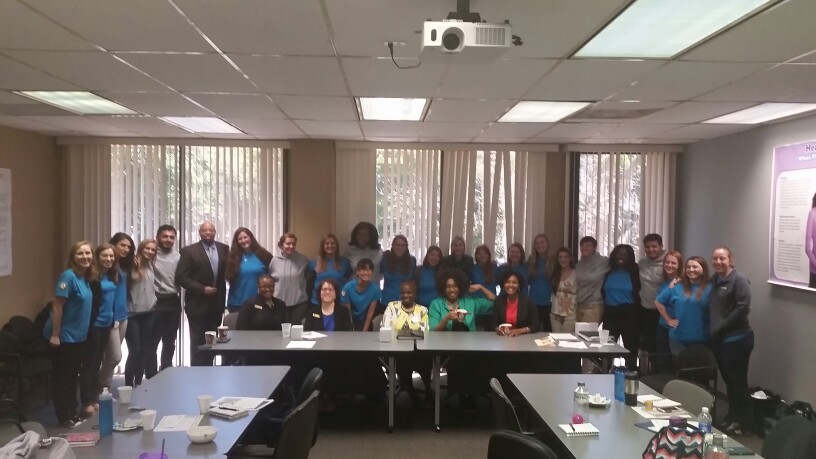 AmeriCorps Members Visited By E3
North Florida - Jacksonville: Over 20 young adults from AmeriCorp were visited on April 5, 2016 by members of E3. Joined by Ms. Natalie Hall, Economic Development Specialist & Veteran's Representative SBA-North Florida District Office were Mrs. Ceandra Dilley (Inspire For Purpose), Mrs. Sequoyah Lindsey-Taylor (ASE Wellness), Ms. Colleen Dedenbach (Medicaid Assist Services of NE Florida) and Traci Irven (Team 1 Service). The women participated in a panel dialogue on entrepreneurship and advocacy. The dialogue was moderated by E3 National Director & Founder Anthony Butler, Sr.
The event was inspired by members requesting a speaker on entrepreneurship. AmeriCorp member Monica Adelphonse was pointed to Mr. Butler by the Northeast Florida Healthy Start Coalition where he sits on the board. Upon hearing their needs Mr. Butler worked with Ms. Adelphonse to create the customized visit. "To have entrepreneurs who care enough about our future leaders to give their time and talents speaks to their character and spirit." commented Butler "Its why E3 continues to set the standard as an entrepreneur group nationally."
The dialogue was well received with entrepreneurs and AmeriCorps members making connections and sharing goals and dreams. E3 gave a challenge for feedback and awarded scholarships for its So You Want To Be An Entrepreneur class to Ms. Adelphonse, who has a vision for helping other health organizations better operate and take advantage of available resources and Ms. Naga Wasserman who has dreams of opening a physical therapy practice which helps all people with access to quality care.
E3 provides outreach opportunities to its members to help promote their businesses and support their passions. For more info email support@e3businessgroup.us.
NFC Delegation Meets Jax Mayoral Staff

E3 Partners with SBA
The first co-sponsorship of E3 Business Group, Inc. with the U.S. Small Business Administration was successfully implemented through the delivering of a customized version of E3's So You Want To Be An Entrepreneur class by the North Florida Chapter and the North Florida District Office of the SBA in Jacksonville, FL.
The 4 week course ran during the month of October and had 15 aspiring entrepreneurs between 0 - 6 years of experience. The course focused on the mindset for being a stronger entrepreneur and covered strategy, pricing development, establishing of enhanced business techniques and coaching based on the E3 Philosophy (Educate, Encourage, Empower) Natalie Hall, SBA Veterans Business Specialist provided weekly guidance on the many resources of the Small Business Administration and its resource partners to the students. In addition Ms. Hall took time to speak with individual entrepreneurs providing them guidance to specific workshops and programs being offered by SBA, SBDC, SCORE and other affiliated agencies.
"This is a key first step in bringing E3's core training to a wider audience.", commented course facilitator E3 National Director Anthony Butler, Sr. "We know the classes make a difference, now with the great programs of the SBA, we are in a position to impact more entrepreneurs around the country." Classes are being developed in 2016/2017 for Baltimore, MD; Atalnta, GA, and Orlando, FL. For more information email support@e3businessgroup.us or call 888-525-2299 x119
What's Happening?
E3 entrepreneurs are half way through #2016WatchUsSOAR and have had some strong accomplishments nationwide over the first six months. North Georgia's Delores Bunch Keemer and North Florida's Michelle Angelique Poitier were acknowledged with recent awards for their business endeavors. Leadership continues to be developed nationally with North Florida taking a lead. Recent growth includes the designation of Ceandra Dilley as NFC Partnerships Coordinator, Colleen Dedenbach as NFC Chapter Advisor, Gladzena Young as Resources Coordinator, Sequoyah Lindsey-Taylor as Chapter Coordinator, and KaTori Roussell as Events Coordinator.

As the organization heads into Quarter 3 they are being challenged to have 90 Days of Purpose by National Director and Founder Anthony M. Butler, Sr. "I am pushing E3preneurs to utilize E3 strategies to push themselves to stronger sales and increased revenue. Time for their market share (# of clients) bank accounts (business revenue) to reflect their efforts." Mr. Butler will be giving details during Chapter Huddles and a series of conference calls

Look for continued workshops and trainings to be offered at the newly named Cobbin Legal Entrepreneur Community Center, a return of MOB Fest and new opportunities for distance learning. Have you or someone you know recently joined? Click on our new link to see your introduction or renewal acknowledgement Interested in E3? Click on the Join E3 link and begin the process. E3 is not for everyone, are you Worthy?

Membership News